Carrier TP-NRH01-B Traditional Thermostat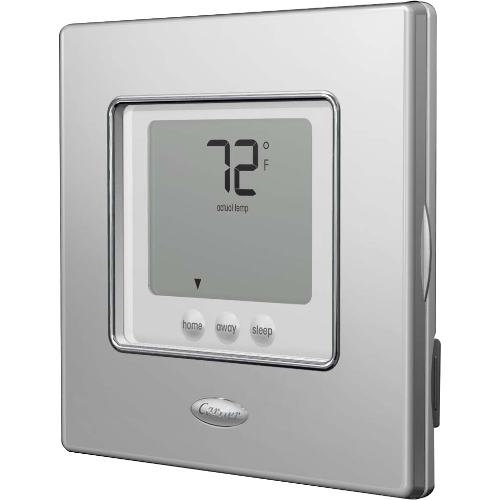 Compatible with heat pumps and offers enhanced comfort management.
Overview
This versatile and beautiful Edge thermostat can manage any Performance™ or Comfort™ series system. Its slim, wall-hugging design gives you up to seven faceplate color options so you can customize your look.
It allows simple, Touch-N-Go programming for one-button, energy-saving, quick settings when you're on the go or ready for sleep.
It's capable of managing temperatures, humidity, ventilation, airflow and indoor air quality. And, if your system includes a heat pump and a furnace, its advanced features can orchestrate Hybrid Heat® system performance too.
Display module is .8″ deep and can be attached directly to the wall when its control module portion is installed on furnace or fan coil.
Why This Traditional Thermostat Is Right for You
Comfort Features: Enhanced comfort features that enable you to control humidity levels and set customized comfort schedules.
Heat Pump Compatible: Can be installed with to control you heat pump heating and cooling system.
Zoning: Compatible with zoning panels for customized zoned comfort.