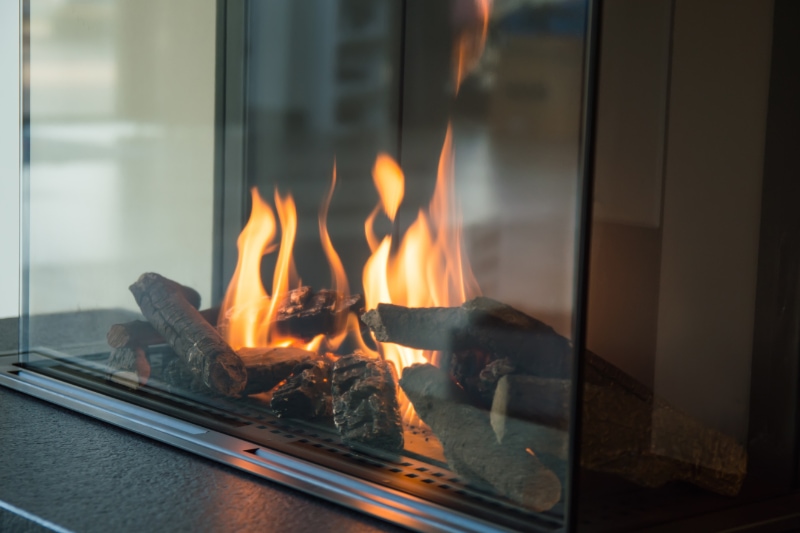 Although wood-burning fireplaces often conjure up cozy memories, they require a fair amount of work, cleanup, and maintenance that much of our modern society prefers not to take on. As a result, gas fireplaces have become a popular replacement to the traditional fireplace in Wheat Ridge.  A wide variety of gas fireplaces are available today in different styles, sizes, and with various installment options. 
Our team at Tri Peaks Air is well versed in what's available on the market today and would be happy to help your family choose a gas fireplace for your home. Or if you are in need of a repair or maintenance, our professionals will promptly come out to your home and address whatever need your fireplace may have.
Benefits of Gas Fireplaces
Simply flip a switch, and you can sit back and enjoy a cozy, warm fire. Eliminate the need of splitting, buying, or hauling logs as well as unpleasant smoke and fumes. You won't have to worry about dirt and wood shreds littering your home each time you want to use your fireplace.
Gas fireplaces also burn natural gas with up to a 90 percent efficiency rating, which means almost no pollution. According to HGTV, a natural gas fireplace insert can heat a 1,000-square-foot area very efficiently and affordably.
Today's gas fireplace options are designed to look so similar to a real wood burning fireplace, many people can't tell the difference. The only real thing missing is the nostalgic pop and snap of a real fire, but in exchange, you get an extremely clean, versatile warmth with cost-effective convenience.
Since a wide variety of fireplace designs and installation options are available, you can incorporate your gas fireplace into your home's unique style. It's also easier than ever to install multiple gas fireplaces throughout your home.
Gas Fireplace Safety
If you decide to install a gas fireplace, be sure to hire a licensed contractor. Gas fireplaces require working with your Colorado home's natural gas lines and therefore require professional expertise. Be sure your contractor installs an oxygen-depletion sensor. Sometimes called a "safety pilot," this device will automatically shut off the gas if the temperature gets too cold or there is too much carbon monoxide built up.
Although tests show gas fireplaces do not increase carbon monoxide levels in your home, it's wise to install carbon monoxide detectors on every floor of your house whenever you use any gas-burning appliance. In addition, keep your damper open while the gas fireplace is operating.
From a daily-use perspective, keep children away from the fireplace because the exterior glass can get very hot. All household items and flammable objects should be kept at least three feet away from your fireplace. Be sure to call 911 if you smell gas or detect any other unusual odors.
Schedule Routine Maintenance
Just like preventative maintenance is a good idea on your overall heating, ventilation, and air conditioning (HVAC) equipment, have your gas log set professionally and inspected at least once a year.
During a routine maintenance inspection, you can expect your gas fireplace professional will inspect the exterior of your gas fireplace to be sure the glass is not chipped, cracked, or otherwise damaged. The framework will also be inspected.
Our professionals will clean and adjust the logs and accessories, such as the glowing "embers" so they look their best, as well as clean the fan, glass, and air circulation passages. The interior gas ignition will be inspected as will the valves and connections under your insert. We will check the heat output, ensure ports and vents are free and clear, and confirm carbon monoxide detectors are functioning.
Contact Us for All Your Gas Fireplace Needs
If you're interested in installing a gas fireplace or need your annual fireplace maintenance checkup, call Tri Peaks Air in Wheat Ridge, CO. Our professionals are ready and waiting to share their knowledge and expertise with you, and we would be happy to come out and perform an inspection and cleaning. Call us at 720-688-7596 or request service online today.